Advantage and Specification of Stainless Steel Screen Printing Mesh
Advantage:
① High tension and low elongation, excellent tension stability after stretching.
② Wire is thinner when comparing with its hole size, uniform hole.
③ chemical resistance, mechanical shock resistance and humiture resistance are all excellent.
Disadvantage:
① Easily to got crease line after impacting.
② Cost is higher;
③ Need to pay more attention in stocking.
Main specification as follows:
Mesh sizeWire diameter/ApertureWeave type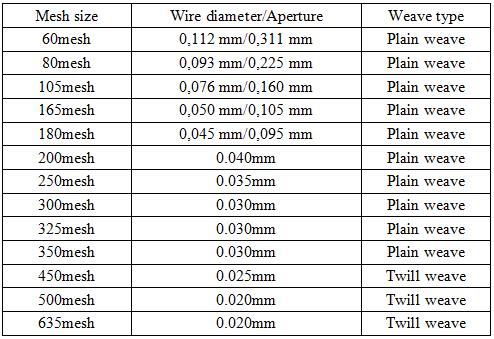 Any questions, please contact us freely.
Main products : Stainless Steel Wire Cloth, Stainless Steel Wire Mesh, Stainless Steel Wire Screen, Stainless Steel Filter Mesh, Ss wire mesh, 304 wire mesh, 316 wire mesh , wire cloth and so on.